The Grand Canyon provides beautiful vistas throughout the year. If you are willing to endure some cold weather, the winter season offers an opportunity to visit explore the canyon when the crowds are few and far between. To book a Grand Canyon hotel or lodge, visit the Grand Canyon Lodges website. Depending on the time of year and the size of your party, you may have a number of lodging options from which to select.
El Tovar is the main hotel located on the south rim of the Grand Canyon.
TripAdvisor is a bit confusing because it categorizes El Tovar under hotels, Kachina Lodge under specialty lodging and Thunderbird Lodge as a bed and breakfast. In reality, the differences between these options are not significant.
From the outside, Kachina Lodge resembles a college dormitory. No charisma. No architectural details worth observing.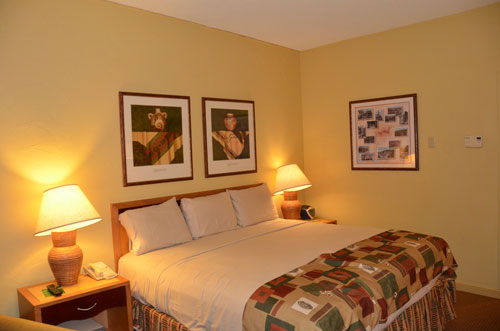 The Kachina Lodge rooms are slightly more attractive inside. But, when you step outside, you are greeted with a view of the Grand Canyon.
In terms of location, I would consider El Tovar, Kachina Lodge, Thunderbird Lodge and Bright Angel Lodge to be equivalent. There are no advantages to be gained, in terms of geography, to pick one over the other.
For food, the Arizona Room is well within walking distance for all four lodging options above. The food selections are somewhat limited. After one dinner in the Arizona Room, I opted for all remaining meals at the adjoining Bright Angel Restaurant, Fountain & Bar. The portion size is on the generous side, so if you are health conscious, splitting an entree with a friend would be recommended.