Little Sheep Mongolian Hot Pot is one of my favorite restaurants. Today, I was shopping at 99 Ranch when I spotted a package of Little Sheep Hot Pot Soup Base – Plain selling for $4.99 per package. Of course, I had to try it. However, I carefully scrutinized the package to make sure that the lamb wasn't pointing in the wrong direction. With the soup base taken care of, I proceeded to collect the rest of my ingredients.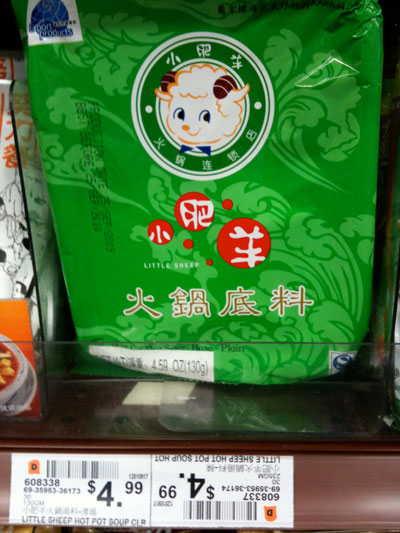 Being naturally inquisitive, I carefully read the list of ingredients.
The ingredients came in separate packages: 1 package of sunflower oil, 1 package of goji berry, 1 package of fermented soy beans, and 1 package of powder.
There's a lot of dry powder, and I can't believe that it's all salt, MSG, disodium inosinate and disodium guanylate. In the restaurant version, I always see something that looks like a small root. Maybe I should have tasted the powder. Oh well.
In addition to the package ingredients, I also had to add the holy trinity of Chinese cooking: green onions, garlic, and ginger. A lot of garlic. 20 gloves of garlic. Yum.
I also had to purchase a hot pot for use on the dinner table. Although a stand-alone gas burner would probably have been sufficient, I opted for the Tatung TICT-1500W induction cooktop. So, what worked well?
The Little Sheep Hot Pot Soup Base tasted pretty much like the soup at the restaurant. I don't know if it was identical, but it was close enough. The firm tofu that I stuck in the freezer for about 30 minutes was outstanding. I loved both the texture and the taste, though next time I will drain the tofu before putting it in the freezer so that it will not emerge encrusted in ice. The tong ho 茼蒿and large pea sprouts 大豆苗 also came out well, and I will use these again in the future. I also added enoki mushroom and fresh udon noodles. Really loved the udon noodles as well. So, basically the soup and all the side dishes came out well. That leaves the meat. I had purchased the pre-sliced beef and lamb from 99 Ranch. The thickness of the meats were uneven. The beef was not paper thin like the one at Little Sheep. While the lamb was cut more uniformly, the texture of both meats left much to be desired. At Little Sheep, the lamb and beef slices just melt in your mouth. The 99 Ranch meats were way too chewy. Like chew, chew, chew and then spit it out. So, the lesson learned is that while hot pot seems simple in theory, executing it to perfection is quite a bit more complex. So, I either have to find a different vendor for hot pot meat or buy a slicer and attempt to slice my own. Still, overall a good first attempt.