Fairyland is a large playground located near Lake Merritt in Oakland. It's not an amusement park, so don't expect a Disneyland or Great America-type experience. Instead, Fairyland offer sandboxes, slides, puppet shows, farm animals, and a few rides with a fairy tale theme. Most rides have minimum and maximum height requirements, so your child cannot be too little or too big. He or she must be just right.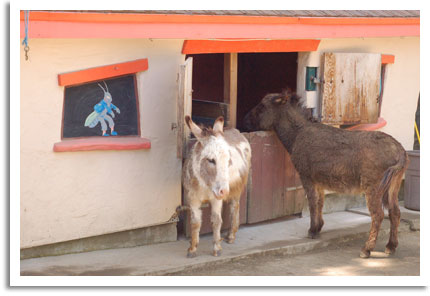 For families with young children, Fairyland is a fantastic value. Admission is $7/person, ages 1-100. And, Fairyland offers more than enough attractions to keep most children busy for several hours. Although the food at the concession stand is limited, it is reasonably priced. No $7 hot dogs or $3 bottles of water like I've seen at other places. Most items were 1-3 dollars. Also, if you want to bring your own food, you can dine in their picnic area inside the park. This place has a totally different feel from commercial amusement parks.
While the park may appear dated, only the adults will notice. I do wish that the park had a more organic texture to it. A bit too much concrete for my taste, especially with a lot of young ones running around.